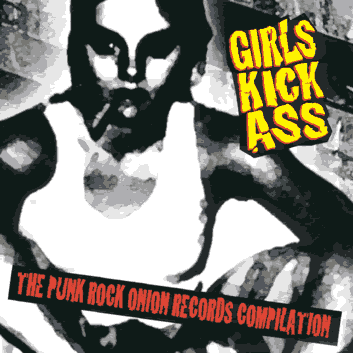 "Girls Kick Ass" 22 Track V/A CD (Punk Rock Onion)
Produced by The Weird Lovemakers
Recorded 1999 at Gerard's House in Tucson, AZ
Released: 1999
---
Track Listing

Phonix "Debbie Does Toledo"
Mike "Blue Balls"
Home Grown "Alternative Girl"
Hyatt "Building 2"
The Disfunctionals "She's the One"
Oblivion "Ellen McCarthy"
Urban Idols "Squeeking Sand"
The Commercials "If You Must"
Capture The Flag "Buckles"
Kiser Sozae "Trapper Keeper"
The Weird Lovemakers "Jenny Piccolo"
Mike "She's Too Cool To Drink A Slurpee"
Catch 22 "Kristina She Don't Know I Exist"
Cruisin' Fer Grannies "I Almost Became An Alcoholic"
Hoobustank "Can I Buy You A Drink"
5 Cent Deposit "What The Fuck?"
The Migraines "She Bought New Boobs"
The Poonanies "Broken Heart"
M.Y.O.P.I.A. "T.R."
Thumb Fat "Start To Finish"
Mr. Monster "Prom Night"
The Pocket Knife Gang "High Maintainance Girl"




The basic tracks were recorded by us live to 4 track in our practice room, and the rest was overdubbed onto Gerard's computer at his house. "Jenny Piccolo" is a song praising slutty girls in general (we were told that the theme of the comp was going to be "girls"), and the "Happy Days" character in particular. Guys are hypocrites about promiscuity, but you probably knew that already. Most everyone likes to fuck; whores are good.